Harvard Gazette Features Shōtoku Exhibit, Curated by Rachel Saunders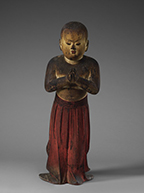 On June 5, 2019, the Harvard Gazette featured an article about the sculpture Shōtoku Taishi at Age Two, a promised gift of Walter C. Sedgwick '69 in memory of Ellery Sedgwick Sr. and Ellery Sedgwick Jr. Recently, Sedgwick returned to Harvard in late May for the opening of the sculpture's exhibition Prince Shōtoku: The Secrets Within at the Harvard Art Museums (May 25 – August 11), curated by Rachel Saunders, Abby Aldrich Rockefeller Associate Curator of Asian Art.
One of the best-known and well-loved objects housed at the Harvard Art Museums, Shōtoku Taishi at Age Two is also the oldest extant image of the putative father of Japanese Buddhism in the world, valued for both its aesthetic qualities and its mysteries within – a cache of 70 dedicatory objects, or nōnyūhin, discovered inside its hollow body cavity, undisturbed since their insertion some 700 years ago. Offering a unique opportunity for sustained and repeated examination, the entire ensemble has drawn intense interest from a wide range of scholars, spanning the disciplines of religion, art history, history, and conservation science, and will now be available for study and appreciation for generations to come.
The Gazette article can be viewed here.