Prince Shōtoku: The Secrets Within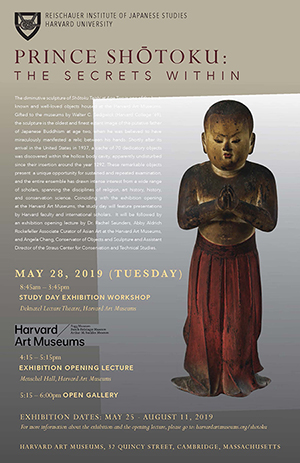 Date: May 28, 2019
Location: Harvard University
Workshop Organizers: Rachel Saunders, Abby Aldrich Rockefeller Associate Curator of Asian Art
Angela Chang, Assistant Director, Straus Center for Conservation and Technical Studies

A gift of Walter C. Sedgwick '69, the sculpture of Shōtoku Taishi at Age Two is not only one of the best-known and well-loved objects housed at the Harvard Art Museums, but also the oldest extant image of the putative father of Japanese Buddhism in the world. This sculpture is valued for both its aesthetic qualities and its mysteries within – a cache of 70 dedicatory objects, or nōnyūhin, discovered inside its hollow body cavity, undisturbed since their insertion some 700 years ago. Offering a unique opportunity for sustained and repeated examination, the entire ensemble has drawn intense interest from a wide range of scholars, spanning the disciplines of religion, art history, history, and conservation science.
This study day workshop, led by Dr. Rachel Saunders, Abby Aldrich Rockefeller Associate Curator of Asian Art at the Harvard Art Museums, aims to deepen the understanding of this important Buddhist icon. Coinciding with the exhibition opening at the Harvard Art Museums, the study day workshop will feature presentations by Harvard faculty and several invited scholars, as well as a collaborative in-gallery conversation with Harvard graduate students.

Study Day Exhibition Workshop
8:45am – 3:45pm
Deknatel Lecture Theatre, Harvard Art Museums
8:45 – 10:00 am: Morning session I: Cultic Power in Early Japan
10:15 – 11:15 am: Morning session II: Reliquaries in Context
12:45 – 2:00 pm: Afternoon session I: Sacred Paper
2:00 – 3:00 pm: Afternoon session II: The Words Within: Interpreting "Shōtoku"
3:15 – 3:30 pm: Closing Remarks by Melissa McCormick, Harvard University
3:30 – 4:00 pm: Closing Discussion
Exhibition Opening Lecture
4:15 – 5:15 pm
Menschel Hall, Harvard Art Museums
Open Gallery
5:15 – 6:00 pm

What is IIIF? Having Fun with IIIF and Japanese Images
Date: October 11, 2018
Location: Harvard University
Workshop Organizer: Katherine Matsuura, Japan Digital Research Center, Harvard University

This hands-on, interactive workshop, supported by the Reischauer Institute of Japanese Studies and led by members of DARTH and Japan Digital Research Center, introduced participants to the International Image Interoperability Framework (IIIF) and open-source IIIF image viewer Mirador. Together these tools support and enhance scholarly research for the web, digital exhibits, as well as course teaching materials.

Participants worked with a variety of digitized images (with special attention to Japanese demons, ghouls, and ghosts) located at Harvard and partnering IIIF institutions around the world. Topics included:
Core concepts of IIIF and why they are important
Retrieving IIIF images and importing them into a Mirador viewer
Learning how to use IIIF for creative projects

Myth and Ritual in Ancient Japan 「古代日本の神話と儀礼」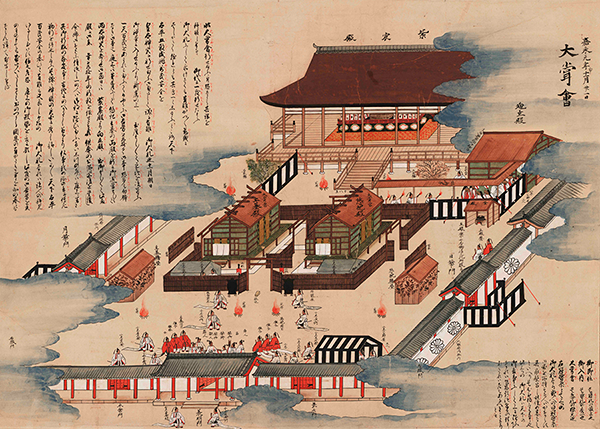 Date: September 20, 2018
Location: Harvard University
Workshop Organizer: Helen Hardacre, Harvard University

This workshop brought together five scholars from Kokugakuin University for presentations and discussions regarding enthronement ritual in Japan. Documentation attesting to the performance of these ceremonies originated in the late seventh or early eighth century, supported by archaeological evidence. The ceremonies took shape through the ancient period, arriving at a stable form that endured until the end of the medieval period, when warfare and social unrest put an end to large-scale imperial ritual, including the Daijōsai, the most elaborate segment of enthronement ritual. Revived during the seventeenth century, the ceremonies were greatly changed in the Meiji period, when Chinese and Buddhist elements were eliminated in favor of a purely Shinto format.

The presentations explained the structure of enthronement ritual, also introducing influential interpretations that link these rituals to the study of myth and literature. In addition, significant works of art depicting enthronement ceremonies, held at the Museum of Shinto, were introduced and discussed.