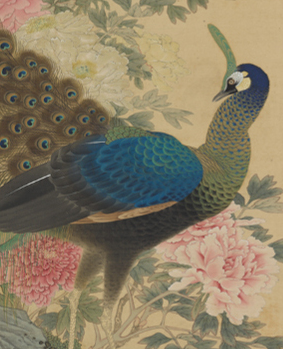 Painting Edo – the largest exhibition ever presented at the Harvard Art Museums – offers a window onto the supremely rich visual culture of Japan's early modern era. Selected from the unparalleled collection of Robert S. and Betsy G. Feinberg, the more than 120 works in the exhibition connect visitors with a seminal moment in the history of Japan, as the country settled into an era of peace under the warrior government of the shoguns and opened its doors to greater engagement with the outside world.
Organized by the Harvard Art Museums.
Curated by Rachel SAUNDERS, Abby Aldrich Rockefeller Curator of Asian Art, Harvard Art Museums
with Yukio LIPPIT, the Jeffrey T. Chambers and Andrea Okamura Professor of History of Art and Architecture, Harvard University.
 
Introduction
Lecture
Deepen your understanding of Painting Edo with the exhibition's opening lecture.
"Into the Kaleidoscope: Painting in Edo Japan" with Timon Screech, SOAS University of London
Art Talks
Learn more about the exhibition from the following two short, thematic Art Talks.
"Painting Edo: Japanese Art from the Feinberg Collection" with Rachel Saunders, Harvard Art Museums
"Painting Edo & The Transcendence of Laughter" with Leah Justin-Jinich, Department of History of Art and Architecture
For more information, please visit:
https://www.harvardartmuseums.org/exhibitions/5909/painting-edo-japanese-art-from-the-feinberg-collection