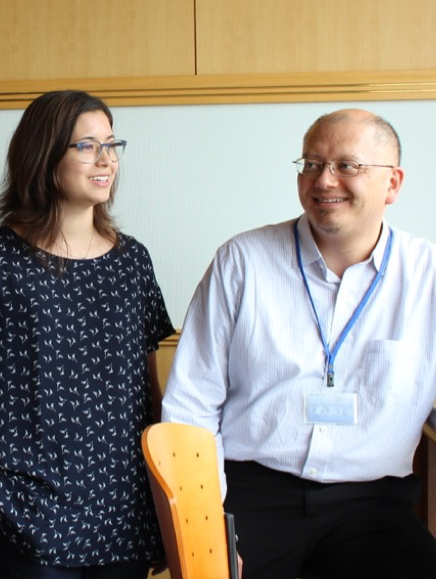 Class: 2019
House: Lowell
Concentration: Neurobiology
Hometown: Westchester, NY
Favorite Japanese Food: Udon
Reischauer Grant: 2018 Japan Summer Science Undergraduate Research Program (University of Tokyo)
What were your initial plans when you arrived at Harvard? Because I was doing ballet and studying French in high school, I was initially interested in going to France for my study abroad experience. But summer after my first year, my grandfather fell ill, so my mother and I went to Tokyo to see him. This was the first time I spent a long period of time in Japan, and it made me want to learn more about the country where my mother grew up in.
How were you able to learn about Japan at Harvard? When I returned to campus for my second year, I decided to take first-year Japanese language course, along with a religion course taught by Professor Ryuichi Abe called, "Buddhism and Japanese Culture." I didn't have any prior exposure to Japanese religion, so as a dancer, I was most fascinated by the influence of Buddhism on Japanese performing arts, particularly the noh/kabuki theatre, and I greatly enjoyed making a dance video that incorporated some of the thematic ideas I learned in the class for my final project (link). I loved this course so much that I'm planning to take another course of his before I graduate.
Also, while working in Professor Takao Hensch's lab, I looked for a summer opportunity to conduct research in Japan, combining my interests in neurobiology and Japan. At his recommendation, I participated in a summer research internship program at the Okinawa Institute of Science and Technology (OIST) after my sophomore year. With the help of Professor Hensch and the Reischauer Institute, I was able to return back to Japan the next summer, but this time, I was at the International Research Center for Neurointelligence (IRCN) at the University of Tokyo (UTokyo).
How was your experience in Okinawa and Tokyo? I absolutely loved my experiences in Okinawa and Tokyo. People at OIST was very welcoming, which was great for someone like me who was conducting research abroad for the first time. Through the program, I was able to interact with many students and researchers from all around the world, and I was grateful for the support and guidance I received from the people in my lab unit. Outside of the lab, I also had the opportunity to explore the island and learn about Okinawan culture that even Japanese people do not know about. The summer at OIST prepared me well for my next summer in Tokyo. While I was working with the same principal investigator as before, I had much more independence at IRCN. The staff at IRCN was also generous and kind, and they helped me and other students to get to know the city better. Tokyo has a lot to offer, but I was most excited about seeing live kabuki performance in Japan.
After Harvard? I am currently applying to medical schools for a 2019 fall matriculation but I would love to return back to Japan before then to revisit the connections I have made in Okinawa and Tokyo.
Listen to Ellie's Experience in Japan:

You can watch the full presentation from Destination: World, Powered By Pechakucha event here.